Long-barrel Inductive Proximity Sensor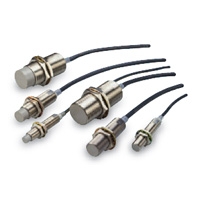 Proximity Sensor with a Long Screw Length
Sensors
DC 2-Wire Models
Appearance

Sensing distance

Model

Operation mode

NO

NC

Shielded

M12

3 mm

E2E2-X3D1 2M *

E2E2-X3D2 2M

M18

7 mm

E2E2-X7D1 2M *

E2E2-X7D2 2M

M30

10 mm

E2E2-X10D1 2M *

E2E2-X10D2 2M

Unshielded

M12

8 mm

E2E2-X8MD1 2M *

E2E2-X8MD2 2M

M18

14 mm

E2E2-X14MD1 2M *

E2E2-X14MD2 2M

M30

20 mm

E2E2-X20MD1 2M *

E2E2-X20MD2 2M
* Models with different frequencies are also available. The model numbers are E2E2-X@D15 (example: E2E2-X3D15).
Note: Orders for DC 2-Wire Models will be accepted until the end of March 2023.
DC 3-Wire Models
Appearance

Sensing distance

Model

Operation mode

NO

NC

Shielded

M12

2 mm

E2E2-X2C1 2M

E2E2-X2C2 2M

M18

5 mm

E2E2-X5C1 2M

E2E2-X5C2 2M

M30

10 mm

E2E2-X10C1 2M

E2E2-X10C2 2M

Unshielded

M12

5 mm

E2E2-X5MC1 2M

E2E2-X5MC2 2M

M18

10 mm

E2E2-X10MC1 2M

E2E2-X10MC2 2M

M30

18 mm

E2E2-X18MC1 2M

E2E2-X18MC2 2M
Note: Orders for DC 3-Wire Models have been discontinued at the end of March 2022.
AC 2-Wire Models
Appearance

Sensing distance

Model

Operation mode

NO

NC

Shielded

M12

2 mm

E2E2-X2Y1 2M

E2E2-X2Y2 2M

M18

5 mm

E2E2-X5Y1 2M

E2E2-X5Y2 2M

M30

10 mm

E2E2-X10Y1 2M

E2E2-X10Y2 2M

Unshielded

M12

5 mm

E2E2-X5MY1 2M

E2E2-X5MY2 2M

M18

10 mm

E2E2-X10MY1 2M

E2E2-X10MY2 2M

M30

18 mm

E2E2-X18MY1 2M

E2E2-X18MY2 2M