Long Sensing-distance Capacitive Separate Amplifier Proximity Sensor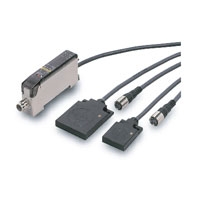 Flat Capacitive Sensor with Separate Amplifier Ideal for Mounting on Robot Hands.
Sensors
Sensors

Amplifier Units

Appearance

Sensing distance (variable)

Model

Output configuration

Model

Flat,
Unshielded

10 mm (4 to 10 mm)

E2J-W10MA 1M

DC 3-wire
NPN
Open-collector output

E2J-JC4A 2M

20 mm (8 to 20 mm)

E2J-W20MA 1M
Accessories (Order Separately)
Dust Covers
A Dust Cover is not provided with the Sensor or Amplifier. Order a Dust Cover separately if required.
Appearance

Application

Application

Model

Dust protection *

E2J-JC4A Amplifier Unit

XS3Z-13

E2J-W[]MA Sensor

XS3Z-15
* These dust covers are for protection against dust. They do not satisfy IP67. When attaching the Dust Cover, be sure
to fully insert the connector into the Dust Cover.
Sensor I/O Connectors with Cables
A Connector is not provided with the Sensor. Order a Connector separately if required.
Appearance

Application

Cable
conductors

Cable
length

Model

Remarks

For cable
extension

4 conductors

1 m

XS3W-M421-401-R

M8-screw-mounting cables
Robotics cables
(vibration resistant)
Straight/Straight Model

2 m

XS3W-M421-402-R
Note: Refer to Introduction to Sensor I/O Connectors/Sensor Controllers for details.