Color Mark Photoelectric Sensor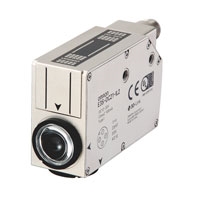 Color Mark Detection on Any Type of Packaging. Narrow Beam and Large Lens for Stable Detection of Workpieces Tilted at Various Angles.
Sensors
Sensing method

Appearance

Connection
method

Sensing
distance

Output

Model

IO-Link
baud rate
*

Diffuse-reflective
(mark detection)

M12 connector

10±3 mm

Push-pull

E3S-DCP21-IL2

COM2
(38.4 kbps)

E3S-DCP21-IL3

COM3
(230.4 kbps)

NPN

E3S-DCN21

Not supported
Note: Please contact your OMRON sales representative regarding the IO-Link setup file (IODD file).
* Refer to Ratings and Specifications for the baud rate.
Accessories (Sold Separately)
Sensor I/O Connectors (Required for a Sensor with a connector.)
Connectors are not provided with the Sensors. Be sure to order a Connector separately.
Size

Type

Appearance

Cable length

Model

M12

Socket on one
cable end

Straight

2 m

XS2F-D421-D80-F

5 m

XS2F-D421-G80-F

L-shape

*2

2 m

XS2F-D422-D80-F

5 m

XS2F-D422-G80-F

Socket and plug on
cable ends *1

Smartclick connector
Straight/straight

2 m

XS5W-D421-D81-F

5 m

XS5W-D421-G81-F

Smartclick connector
L-shape/L-shape

*2

2 m

XS5W-D422-D81-F

5 m

XS5W-D422-G81-F
Note: 1. Refer to Sensor I/O Connectors/Sensor Controllers on your OMRON website for details.
The XS2W (Socket and Plug on Cable Ends) and XS5F (Socket on One Cable End) are also available.
2. The connectors will not rotate after they are connected.
1. There are also straight type/L-shape type combinations available.
2. The cable is fixed at an angle of 180° from the sensor emitter/receiver surface.