5-Megapixel C-Mount Smart Camera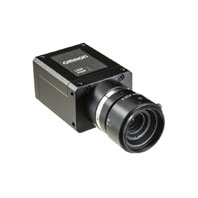 User-configurable smart camera.
F440-F

Symbologies *1

1D Symbologies

Code 39, Code 128, BC412, Interleaved 2 of 5, UPC/EAN, Codabar, Code 93, Pharmacode, PLANET, Postnet, Japanese Post, Australian Post, Royal Mail, Intelligent Mail, KIX

2D Symbologies

Data Matrix (ECC 0-200), QR Code, Micro QR Code, Aztec Code, DotCode, DMRE

Stacked Symbologies

PDF417, MicroPDF417, GS1 Databar (Composite and Stacked)

Reading Performance *2

Number of Reading Digits

No Upper Limit (depending on bar width and reading distance)

Reading Distance /
Field of View

Based on Lens Selection and Code Size

Pitch Angle (α) *3

±30°

Skew Angle (β) *3

±30°

Tilt Angle (γ) *3

±180°

Vision Tools

Locate, Decode, Optical Character Recognition (OCR), Count, Presence/Absence, Measure, Match String, String Format, Logic, Optical Character Verification (OCV), Symbol Quality Verification

Image

Resolution, Pixel Size

2464 (H) x 2056 (V) - 3.45 μm Pixel Size

Monochrome

Monochrome CMOS

Shutter

Global Shutter

Frames per Second

35 FPS for 5 MP

Exposure

16 μs to 400 msec

Image Logging

FTP

Trigger

External Trigger (Edge or Level), Communication Trigger (Ethernet, RS-232C)

Trigger to Strobe Latency + Jitter

320 μs + 65 μs

I/O Specifications

Input Signals

Trigger Input, Input 1, and Default - Bi-Directional Inputs, Optoisolated, 4.5 - 28 V rated (10 mA [] 28 VDC)

Output Signals

3 Signals: Bi-Directional, Optoisolated, 1 - 28 V rated, (ICE < 100 mA at 24 VDC, current limited by user)

Communication

Connectivity

RS-232C, Ethernet TCP/IP, EtherNet/IP™, PROFINET

Ethernet Specifications

1000BASE-T

Indicator LEDs

LINK (Amber), PWR (Green)

Power Supply Voltage

Power over Ethernet (IEEE 802.3af) / 24 VDC +/- 20%, External Input via IO *4

Current Consumption

PoE (44-57 VDC): 0.10 A or 24 VDC: 0.15 A

Environmental / Immunity *5

Ambient Temperature Range

Operating: 0 to 40°C; Storage: -25 to 65°C (No Icing or Condensation)

Ambient Humidity Range

Operating and Storage: 25% to 85% (Non-Condensing)

Ambient Atmosphere

No Corrosive Gases

Vibration Tolerance

Oscillation Frequency: 10 to 150 Hz; Half Amplitude: 0.35 mm; Vibration Direction: X/Y/Z; Sweep Time: 8 Minutes/Count; Sweep Count: 10 Times

Shock Resistance
(Destructive)

Impact Force: 150 m/s2, Test Direction: 6 Directions, 3 Times Each (Up / Down, Front / Behind, Left / Right)

Degree of Protection

IEC 60529 - IP40

Weight

Main Body Only

103.4 g

Packaging Weight

219.1 g

Dimensions

40 mm (W) × 61 mm (D) × 30 mm (H) Note: Depth measurement excludes connector

Accessories

ReadMeFirst, CE Compliance Sheet, Protocol Support Table

EMC / Safety

FCC part 15 Subpart B, ICES-003, EN 55032, EN 55035, AS/NZS CISPR32, CNS 13438, KN32, KN35, UL 62368-1, UL 60950-1
FCC, UL, CE, UKCA, RCM, KC *6

Materials

Aluminum Diecast, Alumite (Black)

Software

AutoVISION
1. These symbologies are supported based on Omron's read capability validation standard. Omron recommends that validation be performed for each application.
2. Unless otherwise specified, reading performance is defined with center of field of view, angle R = ∞.
3.
4. Camera operates External Input at 24 VDC when supplied at the same time as PoE.
5. In an electrically noisy environment, use only the F440-F in combination with a noise filter cable (V430-W[]F-[]M) to ensure proper operation.
6. FCC = United States
  UL = United States
  CE = European Union
  UKCA = Great Britain (England / Wales / Scotland)
  RCM = Australia / New Zealand
  KC = South Korea