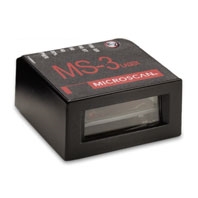 Ultra-Compact Laser Barcode Reader
Applicable codes

Code 39, Code 128, Interleaved 2 of 5, Codabar, Code 93, UPC / EAN, Pharmacode

Reading
performance

Scan mode

Single line, fixed raster

Scan rate

Adjustable from 300 to 1,000 scans / s, default=500

Scan width angle

>70°

Pitch

±50°

Skew

±40°

Label contrast

25% min. at 650 nm

Communications

Interface

RS-232, RS-422 / 485, USB

Protocols

Point-to-Point, Point-to-Point w / RTS / CTS, Point-to-Point w / XON / XOFF,
Point-to-Point w / RTS / CTS & XON / XOFF, Polling Mode D, Multidrop,
User Defined, User Defined Multidrop, Daisy Chain

I / O
specifications

Trigger input

3 to 24 V rated (1 mA at 5 VDC)

New Master

3 to 24 V rated (1 mA at 5 VDC)

Outputs (1, 2, 3)

5 V TTL compatible, can sink 10 mA and source 2 mA

Beeper

Good read, Match/Mismatch, Noread

On / Off LEDs

1 status, 1 power, 5 read performance (representing percentage of good decodes)

Power requirement

5 VDC±5%, 200 mV p-p max. ripple, 260 mA at 5 VDC (typ.)

Laser light

Type

Semiconductor visible laser diode (650 nm nominal)

Safety class

IEC 60825-1 Class II, 1.0 mW max.

Environmental
specifications

Ambient
temperature range

Operating: 0 to 50°C, Storage: -40 to 75°C

Ambient
humidity range

Up to 90% (with no icing or condensation)

Operating life

40,000 hours at 25°C

Degree of
protection

IP54 (category 2)

Weight

Standard

Approx. 106 g

Right Angle

Approx. 136 g

Safety standards

FCC, UL/c UL, CE, KC, RCM, EAC, BIS
HOST CONNECTOR / PIN ASSIGNMENTS
High Density 15 Pin D-sub Socket Connector
a. Can sink 10 mA and source 2 mA.
b. The default is activated by connecting pin 8 to ground pin 4.
c. Chassis ground: Used to connect chassis body to earth ground only. Not to be used as power or signal return.
Read Ranges
Note: For Right Angle option, subtract 15 mm from read range. Read ranges are based upon optimal scan speed for specific symbol density.