Point level detection with Rotary paddle switch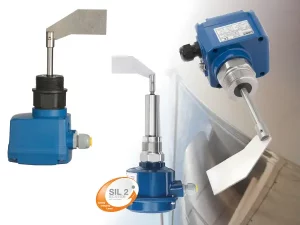 Depending on the requirements the rotary paddle level sensors are used as a full, demand or empty detector in storage silos or process vessels and is suitable for use in almost all solids. With their simple electromechanical measuring principle, they can also be adapted to extreme process conditions. The UWT rotary paddle level switches can be used in applications with process temperatures of up to 1100°C and process pressures of up to 10 bar.
The robust and versatile functional principle is based on a motor-driven, rotating measuring blade, which is inhibited in its rotary motion when covered with bulk material. This creates a counter-torque which is converted into the electrical output signal "covered" via a swivel movement at a switch. If the bulk material no longer covers the measuring blade, the switch is reset to its initial position via a spring. The original state is reached again, the output signal is inverted.
There are 14 types of Point level detection with Rotary paddle switch