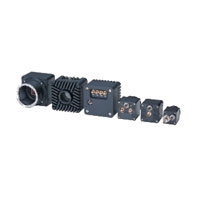 High Speed CMOS CoaXPress Camera
Model

Mono-
chrome/
Color

Reso-
lution

Frame
Rate

Effective
Pixels
(H x V)

Sen-
sor
Size

Cell
Size
(μm)

Sensor

Lens
Mount

General
Specifi-
cations

STC-MBS43CXP3

Mono-
chrome

0.4M

523 fps

720 ×
540

1/2.9

6.9 ×
6.9

IMX287

C

PoCXP, 1-
lane CXP3,
cable from
rear

STC-MCS43CXP3

Color

STC-MBS163CXP6

Mono-
chrome

1.6M

278 fps

1440 ×
1080

1/2.9

3.45 ×
3.45

IMX273

C

PoCXP, 1-
lane CXP6,
cable from
rear

STC-MCS163CXP6

Color

STC-MBS212CXP6

Mono-
chrome

2M

239 fps

1624 ×
1440

1/1.7

4.5 ×
4.5

IMX422

C

PoCXP, 1-
lane CXP6,
cable from
rear

STC-MCS212CXP6

Color

STC-MBS322CXP6

Mono-
chrome

3.2M

152 fps

2048 ×
1536

1/1.8

3.45 ×
3.45

IMX252

C

PoCXP, 1-
lane CXP6,
cable from
rear

STC-MCS322CXP6

Color

STC-CMB401CXP

Mono-
chrome

4M

142.5
fps

2048 ×
2048

1

5.5 ×
5.5

CMV4000

C

PoCXP, 1-
lane CXP6,
cable from
rear

STC-CMC401CXP

Color

STC-MBS510CXP6

Mono-
chrome

5M

98 fps

2448 ×
2048

2/3

3.45 ×
3.45

IMX252

C

PoCXP, 1-
lane CXP6,
cable from
rear

STC-MCS510CXP6

Color

STC-SBS510CXP62

Mono-
chrome

5M

162 fps

2448 ×
2048

2/3

3.45 ×
3.45

IMX250

C

PoCXP, 2-
lane CXP6,
cable from
rear

STC-SCS510CXP62

Color

STC-MBS502CXP6

Mono-
chrome

5.1M

103 fps

2448 ×
2048

1/1.8

2.74 ×
2.74

IMX547

C

PoCXP, 1-
lane CXP6,
cable from
rear

STC-MCS502CXP6

Color

STC-MBS800CXP6

Mono-
chrome

8.1M

66 fps

2848 ×
2840

2/3

2.74 ×
2.74

IMX546

C

PoCXP, 1-
lane CXP6,
cable from
rear

STC-MCS800CXP6

Color

STC-CMB120ACXP

Mono-
chrome

12M

186.9
fps

4096 ×
3072

1.76

5.5 ×
5.5

CMV12000

M42

PoCXP, 4-
lane CXP6,
cable from
rear

STC-CMC120ACXP

Color

STC-CMB120ACXP-T

Mono-
chrome

PoCXP, 4-
lane CXP6,
cable from
top

STC-CMC120ACXP-T

Color

STC-CMB120ACXP-F

Mono-
chrome

F

PoCXP, 4-
lane CXP6,
cable from
rear

STC-CMC120ACXP-F

Color

STC-CMB120ACXP-T-F

Mono-
chrome

PoCXP, 4-
lane CXP6,
cable from
top

STC-CMC120ACXP-T-F

Color

STC-MBS1221CXP6

Mono-
chrome

12.4M

44 fps

4096 ×
3000

1.1

2.74 ×
2.74

IMX545

C

PoCXP, 1-
lane CXP6,
cable from
rear

STC-MCS1221CXP6

Color

STC-SBS123BCXP62

Mono-
chrome

12M

67 fps

4096 ×
3000

1.1

3.45 ×
3.45

IMX253

C

PoCXP, 2-
lane CXP6,
cable from
rear

STC-SCS123BCXP62

Color

STC-LBS162BCXP124

Mono-
chrome

16.2M

158 fps

5320 ×
3032

1.1

2.74 ×
2.74

IMX532

C

PoCXP, 4-
lane CXP12,
cable from
rear

STC-LCS162BCXP124

Color

STC-LBS162BCXP124-T

Mono-
chrome

PoCXP, 4-
lane CXP12,
cable from
top

STC-LCS162BCXP124-T

Color

STC-LBS204BCXP124

Mono-
chrome

20.4M

109 fps

4504 ×
4504

1.1

2.74 ×
2.74

IMX531

C

PoCXP, 4-
lane CXP12,
cable from
rear

STC-LCS204BCXP124

Color

STC-LBS204BCXP124-T

Mono-
chrome

PoCXP, 4-
lane CXP12,
cable from
top

STC-LCS204BCXP124-T

Color

STC-LBS246CCXP124

Mono-
chrome

24.6M

106 fps

5320 ×
4600

1.2

2.74 ×
2.74

IMX530

C

PoCXP, 4-
lane CXP12,
cable from
rear

STC-LCS246CCXP124

Color

STC-LBS246CCXP124-T

Mono-
chrome

PoCXP, 4-
lane CXP12,
cable from
top

STC-LCS246CCXP124-T

Color

STC-LBGP251BCXP124

Mono-
chrome

25M

150 fps

5120 ×
5120

1.1

2.5 ×
2.5

GMAX0505

C

PoCXP, 4-
lane CXP12,
cable from
rear

STC-LCGP251BCXP124

Color

STC-LBGP251BCXP124-T

Mono-
chrome

PoCXP, 4-
lane CXP12,
cable from
top

STC-LCGP251BCXP124-T

Color
Note. STC-M[]S43CXP3/-M[]S163CXP6/-M[]S212CXP6/-M[]S322CXP6/-CM[]401CXP/-M[]S510CXP6/-M[]S502CXP6/
-M[]S800CXP6/-M[]S1221CXP6 support only PoCXP.
Power cannot be supplied to these products from external power sources.
Accessories



Model

Applicable Model

General Specifications

Mount Conversion Adapter

M42-F-R

12M M42 Model

M42 P=1 FB=10 mm →
F mount Conversion Adapter



Model

Length

I/O Cables

FJ-VSP2 3M

3 m

FJ-VSP2 5M

5 m

FJ-VSP2 10M

10 m
Note. Please connect the cables according to the external connector specifications prescribed in your camera's specification
documents, for faulty wiring can cause failure.
Note. Do not connect the shell, for doing so can cause failure or malfunction.
Note. STC-S[]S510CXP62/-CM[]120ACXP/-S[]S123BCXP62/-L[]S162BCXP124/-L[]S204BCXP124/-L[]S246CCXP124/
-L[]GP251BCXP124 support both PoCXP and power supply from external power sources using I/O cables.