GigE Vision Small CMOS Board Camera
STC Series (GigE Vision Small CMOS Board Camera)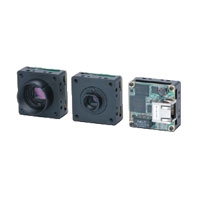 GigE Vision board camera with high-resolution, high-speed CMOS sensor
Model

Mono-
chrome/
Color

Reso-
lution

Frame
Rate

Effe-
ctive
Pixels
(H × V)

Sen-
sor
Size

Cell
Size
(μm)

Conne-
cter

Type

Power
Supply

Lens
Mount

Sensor

Shutter
Type

STC-BBS43POE-BC

Mono-
chrome

0.4M

282.8
fps

720 x
540

1/2.9

6.9 ×
6.9

RJ45
suppo-
rted

All-in-
one

PoE
power
supply

C

IMX287

Global

STC-BBS43GE-BC

External
power
supply
(PoE not
suppo-
rted)

STC-BBS43POE-BL

PoE
power
supply

S

STC-BBS43GE-BL

External
power
supply
(PoE not
suppo-
rted)

STC-BCS43POE-BC

Color

PoE
power
supply

C

STC-BCS43GE-BC

External
power
supply
(PoE not
suppo-
rted)

STC-BCS43POE-BL

PoE
power
supply

S

STC-BCS43GE-BL

External
power
supply
(PoE not
suppo-
rted)

STC-BBS163POE-BC

Mono-
chrome

1.6M

70.7
fps

1,440 x
1,088

1/2.9

3.45 ×
3.45

RJ45
suppo-
rted

All-in-
one

PoE
power
supply

C

IMX273

Global

STC-BBS163GE-BC

External
power
supply
(PoE not
suppo-
rted)

STC-BBS163POE-BL

PoE
power
supply

S

STC-BBS163GE-BL

External
power
supply
(PoE not
suppo-
rted)

STC-BCS163POE-BC

Color

PoE
power
supply

C

STC-BCS163GE-BC

External
power
supply
(PoE not
suppo-
rted)

STC-BCS163POE-BL

PoE
power
supply

S

STC-BCS163GE-BL

External
power
supply
(PoE not
suppo-
rted)

STC-BBS202POE-BC

Mono-
chrome

2M

54.6
fps

1,624 x
1,240

1/1.7

4.5 ×
4.5

RJ45
suppo-
rted

All-in-
one

PoE
power
supply

C

IMX430

Global

STC-BBS202GE-BC

External
power
supply
(PoE not
suppo-
rted)

STC-BBS202POE-BL

PoE
power
supply

S

STC-BBS202GE-BL

External
power
supply
(PoE not
suppo-
rted)

STC-BCS202POE-BC

Color

PoE
power
supply

C

STC-BCS202GE-BC

External
power
supply
(PoE not
suppo-
rted)

STC-BCS202POE-BL

PoE
power
supply

S

STC-BCS202GE-BL

External
power
supply
(PoE not
suppo-
rted)

STC-BBS312POE-BC

Mono-
chrome

3.2M

34.9
fps

2,048 x
1,536

1/1.8

3.45 ×
3.45

RJ45
suppo-
rted

All-in-
one

PoE
power
supply

C

IMX265

Global

STC-BBS312GE-BC

External
power
supply
(PoE not
suppo-
rted)

STC-BBS312POE-BL

PoE
power
supply

S

STC-BBS312GE-BL

External
power
supply
(PoE not
suppo-
rted)

STC-BCS312POE-BC

Color

PoE
power
supply

C

STC-BCS312GE-BC

External
power
supply
(PoE not
suppo-
rted)

STC-BCS312POE-BL

PoE
power
supply

S

STC-BCS312GE-BL

External
power
supply
(PoE not
suppo-
rted)

STC-BBS500POE-BC

Mono-
chrome

5M

21.9
fps

2,448 x
2,048

2/3

3.45 ×
3.45

RJ45
suppo-
rted

All-in-
one

PoE
power
supply

C

IMX264

Global

STC-BBS500GE-BC

External
power
supply
(PoE not
suppo-
rted)

STC-BCS500POE-BC

Color

PoE
power
supply

STC-BCS500GE-BC

External
power
supply
(PoE not
suppo-
rted)

STC-BBS213POE-BC

Mono-
chrome

2.1M

53.0
fps

1,920 x
1,080

1/2.8

2.9 ×
2.9

RJ45
suppo-
rted

All-in-
one

PoE
power
supply

C

IMX291

Rolling

STC-BBS213GE-BC

External
power
supply
(PoE not
suppo-
rted)

STC-BBS213POE-BL

PoE
power
supply

S

STC-BBS213GE-BL

External
power
supply
(PoE not
suppo-
rted)

STC-BCS213POE-BC

Color

PoE
power
supply

C

STC-BCS213GE-BC

External
power
supply
(PoE not
suppo-
rted)

STC-BCS213POE-BL

PoE
power
supply

S

STC-BCS213GE-BL

External
power
supply
(PoE not
suppo-
rted)

STC-BCS213POE-BC-NIR

Color NIR

PoE
power
supply

C

IMX462

STC-BCS213GE-BC-NIR

External
power
supply
(PoE not
suppo-
rted)

STC-BCS213POE-BL-NIR

PoE
power
supply

S

STC-BCS213GE-BL-NIR

External
power
supply
(PoE not
suppo-
rted)

STC-BBS1242POE-BC

Mono-
chrome

12M

9.2
fps

4,000 x
3,000

1/1.7

1.85 ×
1.85

RJ45
suppo-
rted

All-in-
one

PoE
power
supply

C

IMX226

Rolling

STC-BBS1242GE-BC

External
power
supply
(PoE not
suppo-
rted)

STC-BCS1242POE-BC

Color

PoE
power
supply

STC-BCS1242GE-BC

External
power
supply
(PoE not
suppo-
rted)

STC-BBS2041POE-BC

Mono-
chrome

20.4M

5.5
fps

5,472 x
3,648

1

2.4 ×
2.4

RJ45
suppo-
rted

All-in-
one

PoE
power
supply

C

IMX183

Rolling

STC-BBS2041GE-BC

External
power
supply
(PoE not
suppo-
rted)

STC-BCS2041POE-BC

Color

PoE
power
supply

STC-BCS2041GE-BC

External
power
supply
(PoE not
suppo-
rted)
Note. Supply power via PoE or from external power supply (if PoE is not supported).
PoE NIC or Ethernet switch separately needed to supply power via PoE.
JST's SHR-06V connector or equivalent wiring harness is separately needed to use I/O signals or supply power from
external power source (camera equipped with SM06-SRSS (JST) equivalent connector).
For details on pin arrangement, refer to product specification documents, available for download on our website
(https://sentech.co.jp/en/).
Accessories



Model

Length

Cable Type

Screw-Fastened GigE Cables

CAB-GE-02-RBH

2 m

Bending
resistance cables

CAB-GE-03-RBH

3 m

CAB-GE-05-RBH

5 m

CAB-GE-10-RBH

10 m

CAB-GE-20-RBH

20 m

CAB-GE-40-RBH

40 m

CAB-GE-02-RBX

2 m

Super bending
resistance cables

CAB-GE-03-RBX

3 m

CAB-GE-05-RBX

5 m

CAB-GE-10-RBX

10 m

CAB-GE-20-RBX

20 m

CAB-GE-40-RBX

40 m