USB3.0 Remote Head Camera
STC Series (USB3.0 Remote Head Camera)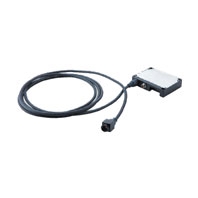 Ultra-compact USB3 Vision remote head camera
Model

Monochrome/
Color

Reso-
lution

Frame
Rate

Effective
Pixels
(H × V)

Sensor
Size

Cell
Size
(μm)

Sensor

Lens
Mount

General
Specifi-
cations

STC-RBS163U3V-UM121

Monochrome

1.6M

238 fps

1440 ×
1080

1/2.9

3.45 ×
3.45

IMX273

S

Cable from
top, cable
length: 1 m

STC-RCS163U3V-UM121

Color

STC-RBS163U3V-SM121

Monochrome

Cable from
rear, cable
length: 1 m

STC-RCS163U3V-SM121

Color

STC-RBS163U3V-UM12

Monochrome

Cable from
top, cable
length:
2.5 m

STC-RCS163U3V-UM12

Color

STC-RBS163U3V-SM12

Monochrome

Cable from
rear, cable
length:
2.5 m

STC-RCS163U3V-SM12

Color
Accessories



Model

Length

Cable Type

USB 3.0 Cables
(USB 3.0 Micro-B,
with Camera-Side Fastening Screws)

CAB-USB3-02

2 m

Normal

CAB-USB3-03

3.5 m

CAB-USB3-05

5 m

CAB-USB3-07

7 m

CAB-USB3-10

10 m

Normal high-transmission cables

CAB-USB3-02-RB

2 m

Robot cables

CAB-USB3-03-RB

3.5 m

CAB-USB3-05-RB

5 m

CAB-USB3-07-RB

7 m
Note. Please make sure in advance that USB 3.0 cables operate correctly under your environment.



Model

Applicable Model

General Specifications

S-Mount (M12 P0.5) Lens

CV0205C

S-mount models

f = 2.5 mm, 1/3" , F2.0, 5 MP resolution

KVAB009

Lens fixing washer



Model

Length

I/O Cables

FJ-VSP2 3M

3 m

FJ-VSP2 5M

5 m

FJ-VSP2 10M

10 m
Note. Please connect the cables according to the external connector specifications prescribed in your camera's specification
documents, for faulty wiring can cause failure.
Note. Do not connect the shell, for doing so can cause failure or malfunction.