Pushbutton Switch (Cylindrical 30-dia.)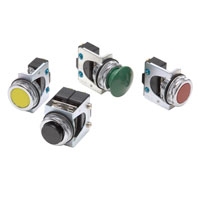 Long Service Life with Built-in Z-series Basic Switch
Classification

Shape of
Operation Unit

Output

Operation Unit color

Blue (-A)

Black (-B)

Green (-G)

Red (-R)

White (-W)

Yellow (-Y)

Momentary
operation

1

ZAP-A

ZAP-B

ZAP-G

ZAP-R

ZAP-W

ZAP-Y

2

2ZAP-A

2ZAP-B

2ZAP-G

2ZAP-R

2ZAP-W

2ZAP-Y

1

ZAP-1A

ZAP-1B

ZAP-1G

ZAP-1R

ZAP-1W

ZAP-1Y

2

2ZAP-1A

2ZAP-1B

2ZAP-1G

2ZAP-1R

2ZAP-1W

2ZAP-1Y

1

ZAP-2A

ZAP-2B

ZAP-2G

ZAP-2R

ZAP-2W

ZAP-2Y

2

2ZAP-2A

2ZAP-2B

2ZAP-2G

2ZAP-2R

---

2ZAP-2Y
Note: Models with special specifications are available for use in environments with high humidity or outdoors.
Contact your OMRON representative for information.
Accessories
Rubber Cap
Use the special rubber cap to use the Switch in locations subject to significant splashing water and oil or scattering dust.
Cannot be used, however, with the (2) ZAP-2.
| | |
| --- | --- |
| Color | Model |
| Blue (-A) | ZB-A |
| Black (-B) | ZB-B |
| Green (-G) | ZB-G |
| Red (-R) | ZB-R |
| White (-W) | ZB-W |
| Yellow (-Y) | ZB-Y |