Smart Sensors (Inductive Displacement Type)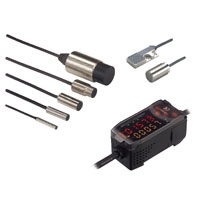 High-accuracy Detection of Metal Workpiece Displacement
Sensor Heads
Model

ZX-EDR5T

ZX-
ED01T

ZX-ED02T/
EM02T

ZX-
EM07MT

ZX-EV04T

ZX-EM02HT

Measurement range

0 to 0.5 mm

0 to 1 mm

0 to 2 mm

0 to 7 mm

0 to 4 mm

0 to 2 mm

Sensing object

Magnetic metals (Measurement ranges and linearities are different for non-magnetic metals. Refer to Engineering Data on See Engineering Data (Typical).)

Standard reference object

18 × 18 × 3 mm

30 × 30 ×
3 mm

60 × 60 × 3 mm

45 × 45 ×
3 mm

Material: ferrous (S50C)

Resolution *1

1 μm

Linearity *2

± 0.5% F.S.

± 1.0% F.S. *5

Linear output range

Same as measurement range.

Temperature characteristic *3
(including Amplifier Unit)

0.15 %
F.S./°C

0.07% F.S./°C

0.1% F.S./°C

Ambient
temper-
ature

Operating *4

0 to 50°C
(with no
icing or con-
densation)

-10 to 60°C (with no icing or condensation)

-10 to 200°C
(with no icing
or condensa-
tion)

Storage *4

-20 to 70°C (with no icing or condensation)

Ambient humidity

Operating and storage: 35% to 85% (with no condensation)

Insulation resistance

50 MΩ min. (at 500 DC)

Dielectric strength

1,000 VAC, 50/60 Hz for 1 min between charged parts and case

Vibration resistance (destruction)

10 to 55 Hz with 1.5-mm double amplitude for 2 h each in X, Y, and Z directions

Shock resistance (destruction)

500 m/s2, 3 times each in X, Y, and Z directions

Degree of protection
(Sensor Head)

IEC60529,
IP65

IEC60529, IP67

IEC60529,
IP60 *6

Connection method

Connector relay (standard cable length: 2 m)

Weight (packed state)

Approx.
120 g

Approx. 140 g

Approx.
160 g

Approx.
130 g

Approx. 160 g

Materials

Sensor
Head

Case

Brass

Stainless
steel

Brass

Zinc (nickel-
plated)

Brass

Sensing
surface

Heat-resistant ABS

PEEK

Tightening
nut

---

Brass (nickel-plated)
(except ZX-ED02T)

---

Brass
(nickel-plated)

Toothed
washer

---

Iron (zinc-plated)
(except ZX-ED02T)

---

Iron
(zinc-plated)

Preamplifier

PES

Accessories

Amplifier Mounting Brackets (ZX-XBE1), Instruction Manual
1: Resolution: The resolution is the deviation (±3σ) in the linear output when connected to the ZX-EDA Amplifier Unit. The above values indicate the deviations observed 30 minutes after the power is turned ON. (The resolution is measured with OMRON's standard reference object at 1/2 of the measurement range with the ZX-EDA set for the maximum average count of 4,096 per period.) The resolution is given at the repeat accuracy for a stationary workpiece, and is not an indication of the distance accuracy. The resolution may be adversely affected under strong electromagnetic fields.
2: Linearity: The linearity is given as the error in an ideal straight line displacement output when measuring the standard reference object. The linearity and measurement values vary with the object being measured.
3: Temperature characteristic: The temperature characteristic is measured with OMRON's standard reference object at 1/2 of the measurement range.
4: The ambient temperature given is only for the sensor head. It is -10 to 60°C for the preamp.
5: The value given is for an ambient temperature of 25°C.
6: Do not use in moist environments because the case is not waterproof.
Amplifier Units
Model

ZX-EDA11

ZX-EDA41

Measurement
period *1

150 μs

Possible average
count settings

1, 2, 4, 8, 16, 32, 64, 128, 256, 512, 1,024, 2,048, or 4,096

Linear output *2

Current output: 4 to 20 mA/F.S., Max. load resistance: 300 Ω
Voltage output: ± 4 V ( ± 5 V, 1 to 5 V *3), Output impedance: 100 Ω

Judgement outputs
(3 outputs:
HIGH/PASS/LOW)

NPN open-collector outputs, 30 VDC, 50 mA max.
Residual voltage: 1.2 V max.

PNP open-collector outputs, 30 VDC, 50 mA max.
Residual voltage: 2 V max.

Zero reset input,
timing input,
reset input,
judgement output
hold input

ON: Short-circuited with 0-V terminal or 1.5 V or less
OFF: Open (leakage current: 0.1 mA max.)

ON: Supply voltage short-circuited or supply voltage within 1.5 V
OFF: Open (leakage current: 0.1 mA max.)

Function

- Number of display digit changes - Sample hold - Peak hold
- Bottom hold, peak-to-peak hold - Self-peak hold - Self-bottom hold
- Average hold - Delay hold - Zero reset
- Initial reset - Linearity initialization - ON-delay timer
- OFF-delay timer - One-shot timer - Previous value comparison
- Non-measurement setting - Direct threshold value setting - Position teaching
- Automatic teaching - Hysteresis width setting - Timing inputs
- Reset input - Judgement output hold input - Monitor focus
- Linear output correction - (A-B) calculations *4 - (A+B) calculations *4
- K-(A+B) calculation *4 - Mutual interference prevention *4
- Sensor disconnection detection - Zero reset memory - Zero reset indicator
- Key lock

Indications

Judgement indicators: High (orange), pass (green), low (yellow), 7-segment main digital display (red), 7-segment sub-digital display (yellow), power ON (green), zero reset (green), enable (green)

Voltage influence
(including Sensor)

0.5% F.S. of linear output value at ±20% of power supply voltage

Power supply
voltage

12 to 24 VDC ± 10%, Ripple (p-p): 10% max.

Current
consumption

140 mA max. with power supply voltage of 24 VDC (with Sensor connected)

Ambient
temperature

Operating and storage: 0 to 50°C (with no icing or condensation)

Ambient humidity

Operating and storage: 35% to 85% (with no condensation)

Insulation
resistance

20 MΩ min. (at 500 DC)

Dielectric strength

1,000 VAC, 50/60 Hz for 1 min

Vibration resistance
(destruction)

10 to 150 Hz with 0.7-mm double amplitude for 80 min each in X, Y, and Z directions

Shock resistance
(destruction)

300 m/s2, 3 times each in 6 directions (up, down, left, right, forward, backward)

Connection method

Prewired (standard cable length: 2 m)

Weight
(packed state)

Approx. 350 g

Materials

Case: PBT (polybutylene terephthalate), Cover: Polycarbonate

Accessories

Instruction Manual
1: The response time for the first linear output or judgment output is calculated as follows (with fixed sensitivity): Measurement period × (Average count setting + 1). The response time for the second and later outputs is the measurement period specified in the table.
2: The output can be switched between a current output and voltage output using a switch on the bottom of the Amplifier Unit.
3: Setting is possible via the monitor focus function.
4: A Calculating Unit (ZX-CAL2) is required.