Guard Lock Safety-door Switch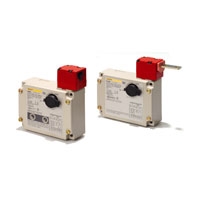 Die-cast aluminum body Key holding force of 700 N
Standards and EC Directives
Conforms to the following EC Directives:
・
Machinery Directive
・
EN ISO 14119
・
EN 60204-1
EN60947-5-1 (certified direct opening)


GS-ET-19

Consult your OMRON representative for details.

Consult your OMRON representative for details.
Certified Standard Ratings
TÜV (EN60947-5-1), CCC (GB/T 14048.5)
Rated operating current (

Ie

)

Rated operating voltage (

Ue

)
Note: Use a 10 A fuse type
gI
or
gG
that conforms to IEC60269 as a short-circuit protection device.
UL/CSA (UL508, CSA C22.2 No. 14)
Note: The UL/CSA certified rating for products with indicators (-A) is 6 A/115 VAC.
Low Level coded (EN ISO 14119)

1,000,000 operations min.

500,000 operations min. (10 A resistive load at 250 VAC)

30 operations/minute max.

19.61 N min. (EN60947-5-1)

Rated insulation voltage (

Ui

)

Protection against electric shock

Class I (with ground terminal)

Pollution degree (operating environment)

Impulse withstand


voltage (

Uimp

)


(EN60947-5-1)

Between terminals of same


polarity

Between terminals of


different polarity

Between each terminal and


ground

Between solenoid and ground

10 to 55 Hz, 0.35 mm single amplitude

Conditional short-circuit current

Conventional enclosed thermal current (

Ithe

)

Ambient operating temperature

-10 to 55°C (with no icing)

Ambient operating humidity
Note: The above values are initial values.

*1. The degree of protection is tested using the method specified by the standard (EN60947-5-1). Confirm that sealing properties are sufficient for the operating conditions and environment beforehand. Although the switch box is protected from dust, oil or water penetration, do not use the D4BL in places where dust, oil, water, or chemicals may enter through the key hole on the head, otherwise Switch damage or malfunctioning may occur.

*2. The durability is for an ambient temperature of 5 to 35°C and an ambient humidity of 40% to 70%.

*3. These figures are minimum requirements for safe operation.
Solenoid Coil Characteristics
24 VDC mechanical lock models

24 VDC solenoid lock models

24 VDC (+10%, -15%) (100% ED)
Indicator Characteristics