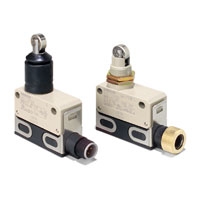 Slim and Compact Switch with Better Seal and Ensuring Longer Service Life than D4E
Type

One-touch connector
type

Screw terminal type

General-
purpose

Micro load

General-
purpose
without cable

Micro load
without
cable

General-
purpose
with cable

Micro load
with cable

Actuator

Model

Model

Model

Model

Model

Model

Roller plunger

D4E-1A[]0N

D4E-2A10N

D4E-1A20N

D4E-2A20N

D4E-1A21N

D4E-2A21N

Crossroller
plunger

D4E-1B[]0N

D4E-2B10N

D4E-1B20N

D4E-2B20N

D4E-1B21N

D4E-2B21N

Plunger

D4E-1C[]0N

D4E-2C[]0N

D4E-1C20N

D4E-2C20N

D4E-1C21N

D4E-2C21N

Sealed roller
plunger

D4E-1D[]0N

D4E-2D10N

D4E-1D20N

D4E-2D20N

D4E-1D21N

D4E-2D21N

Sealed crossroller
plunger

D4E-1E[]0N

---

D4E-1E20N

D4E-2E20N

D4E-1E21N

D4E-2E21N

Sealed plunger

D4E-1F[]0N

D4E-2F10N

D4E-1F20N

D4E-2F20N

D4E-1F21N

D4E-2F21N

Roller lever

D4E-1G[]0N

D4E-2G10N

D4E-1G20N

D4E-2G20N

D4E-1G21N

D4E-2G21N

One-way action
roller lever

D4E-1H00N

---

D4E-1H20N

D4E-2H20N

D4E-1H21N

---
Note: 1. When ordering, specify the current type by replacing the blank box of the model number with 0 for AC connector or 1 for DC connector.
2. For the plunger and lever actuator models, the NC and NO terminal indicators are reversed.
3. Models are also available with molded terminals and with molded terminals and operation indicators. Refer to Catalog.
Plug
For models with connectors, select one of the specified Cables with Connectors (sockets) from the following table.
Applicable limit switches

Current Type

Type

No. of conductors

Cable length

Model

D4E-[][]00N

AC

Straight

4

2 m

XS2F-A421-D90-F

5 m

XS2F-A421-G90-F

D4E-[][]10N

DC

2 m

XS2F-D421-D80-F

5 m

XS2F-D421-G80-F