Guard Lock Safety-door Switch/D4SL-N-mounting Slide Key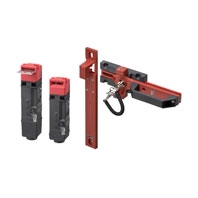 Varied lineup of Guard Lock Safety-door Switches
Standards and EC Directives
Conforms to the following EC Directives:
• Machinery Directive

• Low Voltage Directive

• EMC Directive

• EN ISO 14119

• EN60947-5-1

• GS-ET-19
| | | |
| --- | --- | --- |
| | | |
| | EN60947-5-1 (certified direct opening) | Consult your OMRON representative for details. |
| | | |
| | | Consult your OMRON representative for details. |
| | | Consult your OMRON representative for details. |
*1. Certification has been obtained for UL CSA C22.2 No. 14.

*2. Only certain models have been certified.
Certified Standard Ratings
TÜV (EN60947-5-1) CCC (GB/T 14048.5)
| | | |
| --- | --- | --- |
| | | |
| Rated operating current (Ie) | | |
| Rated operating voltage (Ue) | | |
Note: Use a 4 A fuse that conforms to IEC60127 as a short-circuit protection device. This fuse is not included with the switch.

*1. 11-42, 21-52, 21-22

*2. Other terminals
UL/CSA (UL508, CSA C22.2 No.14)
Solenoid Coil Characteristics
Rated operating voltage (100% ED)

Power ON:


6-contact type Approx. 6.4 W at 0.26 A
4-contact/5-contact type Approx. 4.8 W at 0.2 A
Constant: Approx. 2.6 W (average) at 0.2 A (max.)
* A starting current is applied to the solenoid for Approx. 10 seconds.

After this, the internal circuit switches to a constant current.

Note: For solenoid lock models, be sure to supply power to the solenoid after the door is closed (after the operation key is inserted).

If the door is closed after power is supplied to the solenoid, locking the operation key may not be possible. For details, refer to "Solenoid Lock Models" on catalog.
Low level coded (EN ISO 14119)

IP67 *1


TYPE 4X Indoor use only (UL, CSA)

1,000,000 operations min.

150,000 operations min. (1 A resistance at 125 VAC) *3

4- and 5-contact Model: 30 operations minute max.


6-contact Model: 5 operations minute max.

Minimum applicable load *6

1 mA resistive load at 5 VDC (N-level reference value)

Rated insulation voltage (Ui)

Protection against electric shock

Class II (double insulation)

Pollution degree (operating environment)

Impulse


withstand
voltage
(Uimp)
(EN60947-5-1)

Between terminals of same polarity

Between terminals of different polarity

Between other terminals and


non-current carrying metallic parts

10 to 55 Hz, 0.35 mm single amplitude

Conditional short-circuit current

Conventional free air thermal current (Ith)

2.5A (11-42, 21-52, 21-22)


1A (Others)

Ambient operating temperature

-10 to 55°C (with no icing)

Ambient operations humidity

Head: Resin


Approx. 290 g (Connector model)
Approx. 330 g (Terminal block model)
Head: Metal
Approx. 370 g (Connector model)
Approx. 410 g (Terminal block model)
Note: 1. The above values are initial values.

2. The Switch contacts can be used with either standard loads or microloads. Once the contacts have been used to switch a load, however, they cannot be used to switch smaller loads. The contact surfaces will become rough once they have been used and contact reliability for smaller loads may be reduced.

*1. The degree of protection is tested using the method specified by the standard (EN60947-5-1).

Confirm that sealing properties are sufficient for the operating conditions and environment beforehand. Although the switch box is protected from dust, oil or water penetration, do not use the D4SL in places where cutting chips, oil, water or chemicals may enter through the key hole on the head, otherwise Switch damage or malfunctioning may occur.

*2. The durability is for an ambient temperature of 5 to 35°C and an ambient humidity of 40% to 70%. For more details, consult your OMRON representative.

*3. Do not pass the 1 A, 125 VAC load through more than 3 circuits.

*4. These figures are minimum requirements for safe operation.

*5. This figure is based on the ISO 14119 evaluation method.

*6. This value will vary with the switching frequency, environment, and reliability level.

Confirm that correct operation is possible with the actual load beforehand.