Transparent Object Detection Photoelectric Sensor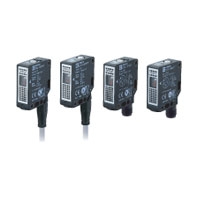 Superb Detection of Many Types of Transparent Objects
Sensing method

Retro-reflective (with MSR function)

Model

NPN output

E3S-DBN[]1

E3S-DBN[]1T

E3S-DBN[]2

E3S-DBN[]2T

PNP output

E3S-DBP[]1

E3S-DBP[]1T

E3S-DBP[]2

E3S-DBP[]2T

Sensing distance

0 to 3.5 m (with E39-R8)

0 to 0.5 m (with E39-R21)

Spot diameter (reference
value) *1

6-mm dia.
(at sensing distance of 250 mm)

2.5-mm dia.
(at sensing distance of 200 mm)

Light source (wavelength)

Red LED (624 nm)

Power supply voltage

10 to 30 VDC, including 10% ripple (p-p)

Power consumption

720 mW max. (current consumption: 30 mA max. at power supply voltage of 24 VDC)

Control output

Load power supply voltage: 30 VDC max., Load current: 100 mA max. (Residual
voltage: 2 V max.)
Open-collector output (NPN/PNP output depending on model.)

Indicators

Light indicator (orange) and stability indicator (green)

Protection circuits

Reversed power supply polarity protection, output short-circuit protection, reversed
output polarity protection, and mutual interference prevention

Response time

Operate or reset: 0.5 ms max.

Sensitivity adjustment

Smart Teaching

Eleven-turn adjuster

Smart Teaching

Eleven-turn adjuster

Smart Teaching lock function

Provided.

---

Provided.

---

Automatic compensation (AC3)

Provided (OFF by
default).

---

Provided (OFF by
default).

---

Ambient illumination

(Receiver side) Incandescent lamp: 3,000 lx max., Sunlight: 10,000 lx max.

Ambient temperature range

Operating: -25 to 60°C, Storage: -40 to 70°C (with no icing or condensation)

Ambient humidity range

Operating: 35% to 85%, Storage: 35% to 95% (with no condensation)

Insulation resistance

20 MΩ min. (at 500 VDC)

Dielectric strength

1,000 VAC at 50/60 Hz for 1 minute

Vibration resistance

Destruction: 10 to 55 Hz with double amplitude of 1.5 mm for 2 hours each in X, Y,
and Z directions

Shock resistance

Destruction: 500 m/s2 3 times each in X, Y, and Z directions

Degree of protection *2

IEC IP67, DIN 40050-9 IP69K

Connection method

Pre-wired cable (standard cable length: 2 m)
Connector (M12, 4 pins)
Pre-wired connector (standard cable length: 0.3 m/M12, 4 pins)

Weight
(packed
state/
Sensor
only)

Pre-wired models

Approx. 80 g/approx. 60 g

Models with
connector

Approx. 60 g/approx. 40 g

Models with
pre-wired connector

Approx. 180 g/approx. 160 g

Materials

Case

Polybutylene terephthalate (PBT)/ABS

Lens

Methacrylic resin (PMMA)

Indicators

Methacrylic resin (PMMA)

Sensitivity adjuster
and
Threshold adjuster

Polyester elastomer

Cable

Polyvinyl chloride (PVC)

Accessories

Instruction manual
Refer to Emission Spot Diameter vs. Distance in Engineering Data (Reference Value) on Data Sheet for details.

2. IP69K Degree of Protection Specification
IP69K is a protection standard against high temperature and high-pressure water defined in the German standard DIN 40050, Part 9. The test piece is sprayed with water at 80°C at a water pressure of 80 to 100 BAR using a specified nozzle shape at a rate of 14 to 16 liters/min.
The distance between the test piece and nozzle is 10 to 15 cm, and water is sprayed horizontally for 30 seconds each at 0°, 30°, 60°, and 90° while rotating the test piece on a horizontal plane.