IoT Status Monitoring Amplifier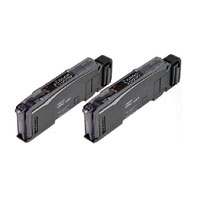 IoT Status Monitoring Amplifiers for General-purpose Analog Outputs Are Connectable to Various Sensors
Ratings and specifications
Item

Types

Current input

Voltage input

Model for Sensor Communications Unit *1

NPN output

E9NC-AA10

E9NC-AA0

E9NC-VA10

E9NC-VA0

PNP output

E9NC-AA40

E9NC-VA40

connection
method

Connector for
Sensor
Communications
Unit Pre-wired (2 m)

Connector for
Sensor
Communications
Unit

Connector for
Sensor
Communications
Unit Pre-wired (2 m)

Connector for
Sensor
Communications
Unit

Output

1 output *2

2 outputs *3

1 output *2

2 outputs *3

Power supply voltage

24 VDC (20.4 to 26.4 V) class2 power is supplied from the connector via the communication
unit.

Power consumption

24 V power supply voltage in normal mode: 1,080 mW or less (consumption current 45 mA
max.), eco-function ON: 840 mW or less (consumption current 35 mA max.), and eco-function
LO: 960 mW or less (consumption current 40 mA max.)

Sensor
input
range

Voltage
range

4 to 20 mA DC

1 to 5 VDC

Input
impedance

204 kΩ±1% (Input: no-insulated)

Repeatability F.S./
25°C

±0.2% F.S.

Display accuracy F.S.

±0.5% F.S. ±2digit

Temperature
characteristics F.S.

±1% F.S.

Control output

Load power supply
voltage:
24 VDC (20.4 to 26.4 V)
class2,
open collector output
type
Load current:
100 mA max. for 1 to 3
units use, 20 mA max.
for 4 or more units
connected
Residual voltage:
Load current less than
10 mA: 1 V max.,
Load current 10 to 100
mA: 2 V max.
Off-state current: 0.1
mA max.

Refer to the
communication
unit specifications

Load power supply
voltage:
24 VDC (20.4 to 26.4 V)
class2,
open collector output
type
Load current:
100 mA max. for 1 to 3
units use, 20 mA max.
for 4 or more units
connected
Residual voltage:
Load current less than
10 mA: 1 V max.,
Load current 10 to 100
mA: 2 V max.
Off-state current: 0.1
mA max.

Refer to the
communication
unit specifications

Response Time

1/10/100/500ms/1/10/30/60s (Initial value 500 ms)

Indicator

Seven Segment Display (both sub and main digital display: white)
OUT indictor (orange), NO/NC indicator (orange), ST indicator (blue), zero-reset indicator
(green)
OUT selective indicator (orange) (two lamps only)

Protection circuit

Power supply reverse
connection protection,
output short-circuit
protection, and output
reverse connection
protection

Power supply
reverse connection
protection,
output short-
circuit protection

Power supply reverse
connection protection,
output short-circuit
protection, and output
reverse connection
protection

Power supply
reverse connection
protection,
output short-
circuit protection

Sensitivity adjustment

Smart Tuning (2-point tuning, full auto tuning, or percentage tuning (-99% to 99%)) or manual
adjustment

Maximum connectable
Units

16 Units

Model E3NW-ECT
*4,
30 units when used
Model E3NW-CCL,
16 units when used

16 Units

Model E3NW-ECT
*4,
30 units when used
Model E3NW-CCL,
16 units when used

No. of Units for mutual
interference prevention

None

Functions

Operation
mode

NO (Normal Open)/NC (Normal Close)

Zero Reset

Yes

Timer

Select from timer disabled, OFF delay, ON delay, or One-shot timer
1 ms to 9999 ms

Scaling

Set the upper/lower limits (-1999.9999 to 9999.9999, min. unit: 0.001)

Resetting
settings *5

Select from initial reset (factory defaults) or user reset (saved settings).

Eco mode

Select from OFF (digital display lit), Eco ON (digital display not lit), and Eco LO (digital display
dimmed).

Bank
switching

Select from banks 1 to 4.

Output 1
Settings

Select from Normal detection mode or Wind comparator (area) detection mode.

Output 2
Settings

---

Select from Normal
detection mode,
Wind comparator
(area) detection
mode, and Error
output mode.

---

Select from Normal
detection mode,
Wind comparator
(area) detection
mode, and Error
output mode.

Hysteresis
width

Select from standard setting or user setting. For a user setting, the hysteresis width can be
set from 0 to 9999.9999.

Display
switch

Select from normal display, peak/bottom display, or CH number display (setting value display
when adjusting the threshold)

Key Lock

Yes

Ambient temperature
range and supply
current for sensor
head

Operating:
Sensor consumption current 40 mA max.
Groups of 1 or 2 Amplifier Units: 0 to 55°C,
Groups of 3 to 10 Amplifier Units: 0 to 50°C,
Groups of 11 to 16 Amplifier Units: 0 to 45°C,
Groups of 17 to 30 Amplifier Units: 0 to 40°C *6
Sensor consumption current 100 mA max.
1 unit: 0 to 55°C, Groups of 2 to 7 Amplifier Units: 0 to 50°C, Groups of 8 to 12 Amplifier
Units: 0 to 45°C
Sensor consumption current 200 mA:
1 unit: 0 to 55°C, Groups of 2 to 5 Amplifier Units: 0 to 50°C
Storage: -30 to +70°C (with no icing or condensation)

Ambient humidity range

Operating and storage: 35% to 85% RH (with no condensation)

Height

2,000 m max.

Installation
environment

Pollution level 3 (according to IEC60947-1)

Insulation resistance

20 MΩ min. (at 500 VDC)

Dielectric strength

1,000 VAC 50/60Hz 1min

Vibration resistance

10 to 55 Hz with a 1.5-mm double amplitude for 2 hrs each in X, Y and Z directions

Shock resistance

150 m/s2 for 3 times each in X, Y and Z directions

Degree of protection
(Sensor Head)

IEC60529 IP50

Weight (packed state/
sensor)

Approx. 95 g/
Approx. 45 g

Approx. 65 g/
Approx. 25 g

Approx. 95 g/
Approx. 45 g

Approx. 65 g/
Approx. 25 g

Materials

Case

Polycarbonate (PC)

Cover

Polycarbonate (PC)

Code

Polyvinyl chloride (PVC)

Accessories

Manual, 6-pin plug connector for connecting ECON cable (model XN2A-1670) x 1
1. The communication unit is compatible with EtherCAT type E3NW-ECT and E3NW-CCL of CC-Link. This unit is not usable with E3NW-CRT.
2. Channel 1 of each amplifier unit is output as the output drawn by the cord.
3. Output signals from two sensors are assigned to the PLC via the network. Various settings can be changed and detected values can be read by operating the PLC via the network.
4. This is the case of connecting with OMRON NJ series. For details, refer to the communication unit manual.
5. The bank is not reset by the user reset function or saved by the user save function.
6. Only E9NC-VA0/AA0 is able to connect to between 17 and 30 units.