Light Convergent Reflective Photomicrosensor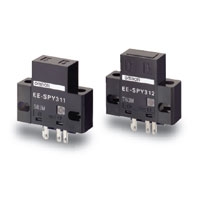 Accurately detects objects placed in front of shiny Background.
Sensors
Appearance

Sensing method

Sensing distance

Output type

Output configuration

Model

Horizontal type

Convergent
reflective type

2 to 5 mm
(Infrared light)

NPN output

Dark-ON

EE-SPY311

Light-ON

EE-SPY411

Vertical type

Dark-ON

EE-SPY312

Light-ON

EE-SPY412
Accessories (Order Separately)
Type

Cable length

Model

Connector

Connector

EE-1001

EE-1009 *

Connector with Cable

1 m

EE-1006 1M

EE-1010 1M *

2 m

EE-1006 2M

EE-1010 2M *

Connector with Robot Cable

1 m

EE-1010-R 1M *

2 m

EE-1010-R 2M *

NPN/PNP Conversion Connector

0.46 m (total length)

EE-2002
Note: Refer to Accessories for details.
* EE-1009- or EE-1010-series Connectors have a builtin locking mechanism to prevent cable disconnection when only the cable is pulled. To remove the Connector from the Sensor, grip the top and bottom of the Connector firmly and push into the Sensor once before pulling out. The locking mechanism prevents the Connector from being removed by pulling on the cable only and enables removal only when the Connector (housing) is pulled.