Reflective Photomicrosensor with Sensitivity Adjuster (Non-modulated)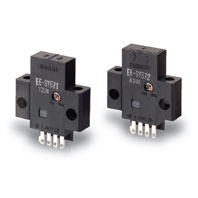 Photomicrosensor with sensitivity adjuster.
Sensors
Appearance

Sensing method

Sensing distance

Output type

Output configuration

Model

Horizontal type

Reflective type

1 to 5 mm
(Infrared light)

NPN output

Dark-ON or Light-ON
(Selectable) *

EE-SY671

Vertical type

EE-SY672
* The Dark-ON/Light-ON (selectable) models are normally used as dark-ON models. To use them as light-ON models,
short-circuit the L terminal and positive (+) terminal.
An EE-1001-1 Connector with the terminals already short-circuited is also available.
Accessories (Order Separately)
Type

Cable length

Model

Remarks

Connector

Connector

EE-1001




EE-1001-1

L terminal and positive (+) terminal are
already short-circuited.

EE-1009 *




Connector with Cable

1 m

EE-1006 1M




EE-1010 1M *




2 m

EE-1006 2M




EE-1010 2M *




Connector with Robot Cable

1 m

EE-1010-R 1M *




2 m

EE-1010-R 2M *




Connector Hold-down Clip

EE-1006A

Applicable Photomicrosensors
For EE-SY671 and 672 only.
(Can be used only with EE-1006
Connectors for the
Photomicrosensors listed above.)
Note: For details, refer to the Photomicro Sensors Accessories on EE-[] which can be accessed from your OMRON website.
* EE-1009- or EE-1010-series Connectors have a builtin locking mechanism to prevent cable disconnection when only the cable is pulled. To remove the Connector from the Sensor, grip the top and bottom of the Connector firmly and push into the Sensor once before pulling out. The locking mechanism prevents the Connector from being removed by pulling on the cable only and enables removal only when the Connector (housing) is pulled.