Camera Link Line Scanning Camera
FS Series (Camera Link Line Scanning Camera)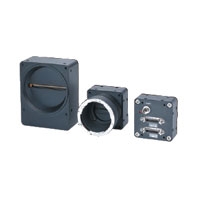 Camera Link Line Scanning Camera
Model

Monochrome/
Color

Resolution

Line Rate

Pixel
size

Sensor

Sensor
Type

Lens
Mount

FS-B2KU7CLU-C

Monochrome

2048 × 1

80 kHz

7 μm

DR-2K-7

Single

C

FS-B2KU7CLU-F

F

FS-B2KU7CLU-M42

M42

FS-B4KU7CLU-F

4096 × 1

7 μm

DR-4K-7

Single

F

FS-B4KU7CLU-M42

M42

FS-B4KU35CLU-C

4096 × 1

3.5 μm

DR-4K-3.5

Single

C

FS-B4KU35CLU-F

F

FS-B4KU35CLU-M42

M42

FS-B8KU7CLU-M72

8192 × 1

7 μm

DR-8K-7

Single

M72

FS-B8KU35CLU-F

8192 × 1

3.5 μm

DR-8K-3.5

Single

F

FS-B8KU35CLU-M42

M42

FS-B16KU35CLU-M72

16384 × 1

40 kHz

3.5 μm

DR-16K-3.5

Single

M72

FS-B2KU7DCLU-C

2048 × 2

160 kHz

7 μm

DR-2 × 2K-7-inver

Dual

C

FS-B2KU7DCLU-F

F

FS-B2KU7DCLU-M42

M42

FS-B4KU7DCLU-F

4096 × 2

160 kHz

7 μm

DR-2 × 4K-7-inver

Dual

F

FS-B4KU7DCLU-M42

M42

FS-B8KU7DCLU-M72

8192 × 2

80 kHz

7 μm

DR-2 × 8K-7

Dual

M72

FS-C2KU7DCLU-C

Color

2048 × 2

80 kHz

7 μm

DR-2 × 2K-7-inver-RGB

Dual

C

FS-C2KU7DCLU-F

F

FS-C2KU7DCLU-M42

M42

FS-C4KU7DCLU-F

4096 × 2

80 kHz

7 μm

DR-2 × 4K-7-inver-RGB

Dual

F

FS-C4KU7DCLU-M42

M42

FS-C8KU7DCLU-M72

8192 × 2

40.5 kHz

7 μm

DR-2 × 8K-7-RGB

Dual

M72
Note. Supply power via power supply and I/O cable (PoCL not supported).
Accessories



Model

Length

Power Supply and I/O Cables

FJ-VSP2 3M

3 m

FJ-VSP2 5M

5 m

FJ-VSP2 10M

10 m
Note. Please connect the cables according to the external connector specifications prescribed in your camera's specification
documents, for faulty wiring can cause failure.
Note. Do not connect the shell, for doing so can cause failure or malfunction.