Safety Edge/Edge Controller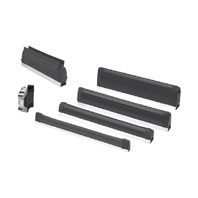 Safety sensors to detect contacts by mounting to moving parts of hazards
Edge Controller SCC-1224A
120 VAC 50/60Hz (Terminals A1 and A2)


24 VAC 50/60Hz or 24 VDC (Terminals B1 and B2)

-10% to +10% of rated power supply voltage

Power consumption (with sensors connected)

120

VAC

: 3.8 VA max. 50 Hz, 3.5 VA max. 60 Hz




24 VAC

: 1.2 VA max., 24 VDC: 1.5 W max.
* Select either Terminals A1 and A2 or Terminals B1 and B2 according to the power supply voltage applied. Never apply

both voltages simultaneously.
SGE Safety Edge: A maximum of 5 edges can be connected in series.


Maximum wiring length: 25 m max.
230 VAC 3 A, 24 VDC 3 A (resistive load)


230 VAC 1 A (AC-15), 24 VDC 2 A (DC-13) (inductive load)

24 VAC/DC 2A (resistive load)
Operating time (Open to closed) *2

Response time (Closed to open) *3

Malfunction: 10 to 55 Hz, Sinus, 0.15 mm amplitude, 10 cycles

AC-15: 800,000 cycles min. (230 VAC, 1A)


DC-13: 250,000 cycles min. (24 VDC, 2A)

Ambient operating temperature

-20 to 55°C (-4 to 131°F) (with no icing or condensation)

Ambient operating humidity

Polyamide PA6.6, self-extinguishing according to UL 94-V2

Class II (protective insulation)

Overvoltage category (IEC/EN 60664-1)

Rated impulse voltage resistance

Terminal tightening torque

EN ISO 13856-2, EN ISO 13849-1: 2015, EN 61000-6-2, EN 61000-6-3,


ANSI/UL 508, CSA C22.2 No.14
*1. The startup time is the delay time from power-on to when the SCC-1224A Safety M
at/Edge Controller is ready to
operate.

*2. The operating time is the time it takes for the safety output contacts to be closed after the sensor is deactivated and th
e
manual re
set input contacts are closed.
The contact bounce time is not included.

*3. The response time is the time it takes for the safety output contacts to open after th
e sensor is activated. Contact
bounce time is included.
Max. length of a single safety edge

Overtravel

distance *2 (400 N)

2 conductors, 0.34 mm

2

, Allowable bending radius: R38mm


Cable Specifications
Type: PUR (Polyurethane) Round lead cable
External diameter: 3.5 dia.
Number of conductors: 2 conductors
Cross-section of

conducto

: 0.34 mm

2


Insulator diameter: 1.2 dia.

During operation: -10 to 55°C (with no icing),


During storage: -25 to 75°C (with no icing)

Operating ambient humidity

0.77 kg/m (SGE-245)


0.82 kg/m (SGE-245L)
*1
. TPE: Thermoplastic
Elastomer
EPDM: Ethylene Propylene Rubber

*2. Values of actuation distance and actuation force are characteristic values tested accor
ding to EN ISO 13856-2 using a
test object of ϕ80 mm and actuating point C3 under a test temperature of 20°C and
test speed v = 10 mm/s. Refer
to "Characteristics" on Catalog for details.

*3. There is an inactive region (including an end cap) in both ends of the safety edge.

*4. Values are for the unit weight of TPE or EPDM devices. The weight does not incl
ude the aluminum base, cables,
or connectors.

*5. The SGE-225 can be used for finger
protection.The
actuation force is 20 N when the SGE-225 is used for finger
protection.
(Characteristic values tested according to EN ISO 13856-2 using a test object of ϕ20 m
m and actuating point C3 under
a test temperature of 20°C and test speed v = 10 mm/s)
SGE-225, SGE-245, SGE-365

Tear Strength (Resistance)

Ultimate Tensile Strength

Rebound Elasticity at 20°C

Resistance Against Permanent Deformation
Note: 1 = Excellent

2 = Very good

3 = Good

4 = Fair

5 = Poor

6 = Very poor
SGE-225, SGE-245, SGE-365
Note: 1 = Excellent

2 = Very good

3 = Good

4 = Fair

5 = Poor

6 = Very poor
SGE-225, SGE-245, SGE-365

Ketone

Solvents (Containing Oxygen)

Aliphatic Hydrocarbons Solvents (Gasoline)
Note: 1 = No Effects, Permanent Contact

2 = Few Effects, Some Contact

3 = Medium Effects, Some Contact
4 = Noticeable Effects, Reduced Contact

5 = Severe Effects, Very Brief Contact

6 = Extreme Effects, Avoid Contact