On-site Flexible Rod Switches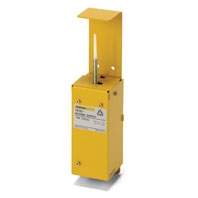 Easy on-site input on-the-move
Approved Standards
| | | |
| --- | --- | --- |
| Agency | Standard | File No. |
| CCC (CQC) | GB/T14048.5 | Contact your OMRON representative for details. |
Approved Standard Ratings
CCC (GB/T14048.5)
Applicable category and ratings
AC-15 3A/240V
DC-13 0.27A/250V
Ratings
Rated voltage

Carry current

Current (A)

Volt-amperes (V)

Make

Break

Make

Break

120 VAC
240 VAC

10 A

60
30

6
3

7,200

720

125 VDC
250 VDC

2.5 A

0.55
0.27

0.55
0.27

69

69
Characteristics
Degree of protection *1

IP65

Vibration resistance

Malfunction: 10 to 55 Hz, 0.65-mm single amplitude, 100 m/s2 max.

Shock
resistance

Destruction

1,000 m/s2 max.

Malfunction

20 m/s2 max.

Operating
environment

Ambient operating temperature

-10 ° C to +70 ° C

Ambient operating humidity

35% to 95%RH

Built-in
switch
specifications

Switch model

D4N-2187

Allowable operating speed

1 mm/s to 0.5 m/s

Allowable
operating
frequency

Mechanical

60 operations/min

Electrical

30 operations/min (with resistive load)

Durability *2

Mechanical

1,000,000 operations min.

Electrical

200,000 operations min. (for a resistive load of 10 A at 125 VAC)

Contact type

SPST-NO+SPST-NC

Terminal type

Screw terminals

Emergency-
stop switch
specifications

Switch model

A165E-M-02

Operating method

Slow action, Direct-opening mechanism

Operating functions

Push to lock, turn to reset
Contact is opened by pushing in switch and closed by returning switch to original position.

Contact type

DPST-NC

Operating part

Size: 40 dia. Color: red, non-illuminated

Terminal type

Soldered terminals
Note: 1. The values in the above table are the initial values.
2. For more details on specifications, refer to individual specification sheets for the relevant models.
1. The specification given for the degree of protection is for the built-in switch (D4N-2187) and does not apply to the casing for the whole product.
2. The durability values shown above are for operation at an ambient temperature of 5°C to 35°C, an ambient humidity of 40% to 70%RH, with an operating stroke of 30 mm at a point 20 mm away from the end of the actuator.
Contact your OMRON representative for details on other operating conditions.