Floatless Level Switch (Basic Type)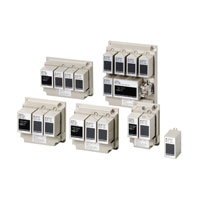 Basic Building-block Controllers That Mount Directly to Panels for Easier Maintenance
Type

Set contents

General-purpose

Long-distance,
2 km

Long-distance,
4 km

High-sensitivity

Model

Model

Model

Model

Application G

61F-G Base x 1
61F-11[] Units x 1

61F-G *

61F-GL 2KM *

61F-GL 4KM *

61F-GH *

Application G1

61F-G1 Base x 1
61F-11[] Units x 2

61F-G1 *

61F-G1L 2KM

61F-G1L 4KM

61F-G1H *

Application G2

61F-G2 Base x 1
61F-11[] Units x 2

61F-G2 *

61F-G2L 2KM *

61F-G2L 4KM *

61F-G2H *

Application G3

61F-G3 Base x 1
61F-11[] Units x 3

61F-G3 *

61F-G3L 2KM

61F-G3L 4KM

61F-G3H *

Application G4

61F-G4 Base x 1
61F-11[] Units x 5
MK3P Relay x 1

61F-G4 *

61F-G4L 2KM

61F-G4L 4KM *

61F-G4H *

Application I

61F-I Base x 1
61F-11[] Units x 2

61F-I *

61F-IL 2KM

61F-IL 4KM

61F-IH

Relay Unit

61F-11[] Units x 1

61F-11

61F-11L 2KM

61F-11L 4KM

61F-11H

Type

Set contents

Low-sensitivity

2-wire

Tropical
environments

High-temperature

Model

Model

Model

Model

Application G

61F-G Base x 1
61F-11[] Units x 1

61F-GD

61F-GR

61F-G-TDL *

61F-GT *

Application G1

61F-G1 Base x 1
61F-11[] Units x 2

61F-G1D

61F-G1R

61F-G1-TDL *

61F-G1T

Application G2

61F-G2 Base x 1
61F-11[] Units x 2

61F-G2D

61F-G2R

61F-G2-TDL *

61F-G2T *

Application G3

61F-G3 Base x 1
61F-11[] Units x 3

61F-G3D

61F-G3R

61F-G3-TDL *

61F-G3T

Application G4

61F-G4 Base x 1
61F-11[] Units x 5
MK3P Relay x 1

61F-G4D

61F-G4R

61F-G4-TDL *

61F-G4T

Application I

61F-I Base x 1
61F-11[] Units x 2

61F-ID *

---

61F-I-TDL *

61F-IT

Relay Unit

61F-11[] Units x 1

61F-11D

61F-11R

---

61F-11T
Note: 1. When ordering, specify the desired operating voltage at the end of the model number.
2. If you order with a standard model number, the corresponding Relay Units are also delivered as part of a set.
If you order the 61F-G, one 61F-11 Relay Unit is included in the set.
* Orders will not be accepted after March 31, 2018. Refer to the following table for the discontinued power supply voltages.
61F-G

G

G1

G2

G3

G4

I

Voltage

Model

Model

Model

Model

Model

Model

120/240 V

61F-G *
120/240 VAC

61F-G1 *
120/240 VAC

61F-G2 *
120/240 VAC

61F-G3 *
120/240 VAC

61F-G4 *
120/240 VAC

61F-I *
120/240 VAC

115/230 V






61F-G2 *
115/230 VAC

61F-G3 *
115/230 VAC

61F-G4 *
115/230 VAC

61F-I *
115/230 VAC

200/220 V

61F-G *
200/220VAC










61F-I *
200/220 VAC

220/380 V

61F-G *
220/380 VAC

61F-G1 *
220/380 VAC

61F-G2 *
220/380 VAC

61F-G3 *
220/380 VAC

61F-G4 *
220/380 VAC

61F-I *
220/380 VAC

120/240 V

61F-GL *
120/240 VAC 2KM




61F-G2L *
120/240 VAC 2KM








120/240 V

61F-GL *
120/240 VAC 4KM




61F-G2L *
120/240 VAC 4KM




61F-G4L *
120/240 VAC 4KM




120/240 V

61F-GH *
120/240 VAC

61F-G1H *
120/240 VAC

61F-G2H *
120/240 VAC

61F-G3H *
120/240 VAC

61F-G4H *
120/240 VAC




115 V












61F-ID *
115 VAC

120/240 V

61F-GT *
120/240 VAC












120/240 V






61F-G2T *
120/240 VAC








100/200 V

61F-G-TDL *
100/200 VAC

61F-G1-TDL *
100/200 VAC

61F-G2-TDL *
100/200 VAC

61F-G3-TDL *
100/200VAC

61F-G4-TDL *
100/200 VAC

61F-I-TDL *
100/200 VAC

110/220 V

61F-G-TDL *
110/220 VAC

61F-G1-TDL *
110/220 VAC

61F-G2-TDL *
110/220 VAC

61F-G3-TDL *
110/220 VAC

61F-G4-TDL *
110/220 VAC



* Discontinued at the end of March 2018