Floatless Level Switch (Ultra High-sensitivity Type)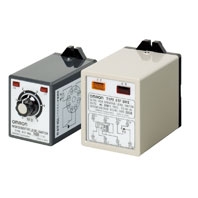 Ideal for Detecting Ice, Pure Water, or Humidity
Specifications
Item

High-sensitivity 61F-UHS

Variable high-sensitivity 61F-HSL

Supply voltage

100, 200, or 220 VAC; 50/60 Hz

24, 100, 110, 200, or 220 VAC; 50/60 Hz

Operating voltage range

85% to 110% of rated voltage

Interelectrode voltage

24 VAC

13 VDC max.

Interelectrode current

Approx. 1 mA AC max.

Approx. 1 mA DC max.

Power consumption

3.2 VA max.

Interelectrode operate
resistance

0 to approx. 1 MΩ *1

0 to approx. 5 MΩ (variable)

Interelectrode release
resistance

Approx. 5 M to ∞ Ω

Operate resistance + 2.5 MΩ max.

Cable length

5 m *2

*3

Control output

0.3 A, 220 VAC (Inductive load: cosφ = 0.4)
1 A, 220 VAC (Resistive load)

2 A, 220 VAC (Inductive load: cosφ = 0.4)
5 A, 220 VAC (Resistive load)

Ambient temperature

Operating:-10 to 55°C

Ambient humidity

Operating:45% to 85% RH

Insulation resistance

100 MΩ max. (at 500 VDC)

Dielectric strength

2,000 VAC, 50/60 Hz for 1 min

Life expectancy

Electrical: 50,000 operations min.
Mechanical: 5,000,000 operations min.

Electrical: 500,000 operations min.
Mechanical: 5,000,000 operations min.

Weight

Approx. 380 g

Approx. 240 g
1. Use 61F-UHS for detecting water leakage with high specific resistance. Connect a sensor cable between terminals 1 and 7.
2. Two Electrodes can be connected to the 61F-HSL. Use them for an alarm, not for creating a self-holding circuit.
3. The length when using completely-insulated, 600-V, 3-conductor (0.75 mm2) cabtire cables. Usable cable lengths will become shorter as the cable diameter or number of conductors becomes larger. For more details, refer to Safety Precautions for Floatless Level Controllers.
4. It is recommended that the cable length be kept as short as possible since the Electrode circuit current is at DC micro-current level. Moreover, the Electrodes will corrode rapidly if the current is allowed to constantly flow between the Electrodes. Be careful with the electrode polarity and grounding when wiring.