Guard Lock Safety Key Selector Switch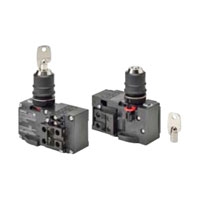 The guard lock prevents accidental mode changes.
List of Models (Completely Assembled)
Shipped as a set which includes the Operation Unit and Switch.
For the model with Operation Unit only, contact your OMRON representative.
Key position of


NC contact
closing
* Lock and release type are Solenoid lock and Mechanical release.