Proximity Sensor with All-stainless Housing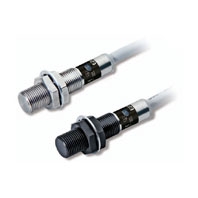 Metal Head for long-distance Detection that Withstands Harsh Environments Where the Workpiece Can Rub against the Sensor
Sensors
Standard Models (Completely stainless-steel housing)
Connection method

Appearance

Sensing
distance

Output

Operation
mode

Model

Pre-wired Models (2m)

Shielded

M8

2 mm

DC 2-Wire
(polarity)

NO

E2EF-X2D1 2M

M12

3 mm

E2EF-X3D1 2M

M18

7 mm

E2EF-X7D1 2M

M30

12 mm

E2EF-X12D1 2M

Pre-wired Smartclick
Connector Models (M12)

Shielded

M8

2 mm

E2EF-X2D1-M1TGJ 0.3M

M12

3 mm

E2EF-X3D1-M1TGJ 0.3M

M18

7 mm

E2EF-X7D1-M1TGJ 0.3M

M30

12 mm

E2EF-X12D1-M1TGJ 0.3M
Spatter-resistant Models (Completely stainless-steel housing with fluororesin coating)
Connection method

Appearance

Sensing
distance

Output

Operation
mode

Model

Pre-wired Models (2m)

Shielded

M8

2 mm

DC 2-Wire
(polarity)

NO

E2EF-QX2D1 2M

M12

3 mm

E2EF-QX3D1 2M

M18

7 mm

E2EF-QX7D1 2M

M30

12 mm

E2EF-QX12D1 2M

Pre-wired Smartclick
Connector Models (M12)

Shielded

M8

2 mm

E2EF-QX2D1-M1TGJ 0.3M

M12

3 mm

E2EF-QX3D1-M1TGJ 0.3M

M18

7 mm

E2EF-QX7D1-M1TGJ 0.3M

M30

12 mm

E2EF-QX12D1-M1TGJ 0.3M
Note: Vinyl chloride is used for the cable material, and separate protection is required.
Accessories (Order Separately)
Sensor I/O Connectors
Smart Click Connectors
Cable connection
direction

Cable
specifications

Cable
length

No. of cable
conductors

Model

Applicable Proximity Sensor
model number

Straight

Flame-retardant,
flexible cable

2 m

4

XS5F-D421-D80-F

E2EF-X[]D1-M1TGJ
E2EF-QX[]D1-M1TGJ

5 m

4

XS5F-D421-G80-F
Note: Refer to Sensor I/O Connector/Sensor Controller on your OMRON website for details.