Oil-resistant Proximity Sensors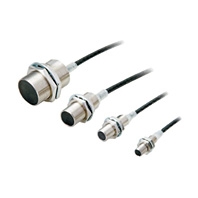 Proximity Sensors That Withstand Cutting Oil to Reduce Failures Caused by Ingress of Cutting Oil
Standard Proximity Sensors
Appearance

Sensing distance

Connection
method

Cable
specifications

Model

Operation mode: NO

Operation mode: NC

Shielded


M8

2 mm

Pre-wired Models
(2 m)

Fluororesin

E2ER-X2D1 2M *

E2ER-X2D2 2M *

M12 Pre-wired
Smartclick Connector
Models (0.3 m)

E2ER-X2D1-M1TGJ 0.3M

E2ER-X2D2-M1TGJ 0.3M

M12

3 mm

Pre-wired Models
(2 m)

E2ER-X3D1 2M *

E2ER-X3D2 2M *

M12 Pre-wired
Smartclick Connector
Models (0.3 m)

E2ER-X3D1-M1TGJ 0.3M

E2ER-X3D2-M1TGJ 0.3M

M18

7 mm

Pre-wired Models
(2 m)

E2ER-X7D1 2M *

E2ER-X7D2 2M *

M12 Pre-wired
Smartclick Connector
Models (0.3 m)

E2ER-X7D1-M1TGJ 0.3M

E2ER-X7D2-M1TGJ 0.3M

M30

10 mm

Pre-wired Models
(2 m)

E2ER-X10D1 2M *

E2ER-X10D2 2M *

M12 Pre-wired
Smartclick Connector
Models (0.3 m)

E2ER-X10D1-M1TGJ 0.3M

E2ER-X10D2-M1TGJ 0.3M
* Models with 5-m cable length are also available with "5M" suffix. (Example: E2ER-X2D1 5M)
Chip-immune Proximity Sensors
Appearance

Sensing
distance

Connection
method

Cable
specifications

Model

Operation mode: NO

Operation mode: NC

Shielded


M12

2 mm

Pre-wired Models
(2 m)

Fluororesin

E2ERZ-X2D1 2M *

E2ERZ-X2D2 2M *

M12 Pre-wired
Smartclick Connector
Models (0.3 m)

E2ERZ-X2D1-M1TGJ 0.3M

E2ERZ-X2D2-M1TGJ 0.3M

M18

4 mm

Pre-wired Models
(2 m)

E2ERZ-X4D1 2M *

E2ERZ-X4D2 2M *

M12 Pre-wired
Smartclick Connector
Models (0.3 m)

E2ERZ-X4D1-M1TGJ 0.3M

E2ERZ-X4D2-M1TGJ 0.3M

M30

8 mm

Pre-wired Models
(2 m)

E2ERZ-X8D1 2M *

E2ERZ-X8D2 2M *

M12 Pre-wired
Smartclick Connector
Models (0.3 m)

E2ERZ-X8D1-M1TGJ 0.3M

E2ERZ-X8D2-M1TGJ 0.3M
* Models with 5-m cable length are also available with "5M" suffix. (Example: E2ERZ-X2D1 5M)
Accessories (Sold Separately)
Sensor I/O Connectors (M12, Sockets on One Cable End)
(Models for Pre-wired Connectors) A Sensor I/O Connector is not provided with the Sensor. It must be ordered separately as required.
Appearance

Cable
diameter
(mm)

Cable
length

Sensor I/O Connector
model number

Applicable Proximity
Sensor model number

Straight,
Smartclick
Oil-resistant
Connectors


4 dia.

2 m

XS5FR-D423-D80-RB1

E2ER-X[]D[]-M1TGJ
E2ERZ-X[]D[]-M1TGJ

5 m

XS5FR-D423-G80-RB1

10 m

XS5FR-D423-J80-RB1
Note: Refer to the XS5[]R on catalog for connector details and for information on cables with connectors on both ends.