Proximity Sensor Ideal for High Temperatures and Cleaning Processes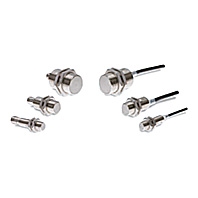 Proximity Sensor Ideal for the Food and Beverage Industry
Sensors
Pre-wired Models
Appearance

Sensing distance

Output configuration

Operation mode: NO

Operation mode: NC

M12

3 mm

DC 2-wire (polarity)

E2EH-X3D1 2M

E2EH-X3D2 2M

DC 2-wire (no polarity) *

E2EH-X3D1-T 2M

---

DC 3-wire (PNP)

E2EH-X3B1 2M

E2EH-X3B2 2M

DC 3-wire (NPN)

E2EH-X3C1 2M

E2EH-X3C2 2M

M18

7 mm

DC 2-wire (polarity)

E2EH-X7D1 2M

E2EH-X7D2 2M

DC 2-wire (no polarity) *

E2EH-X7D1-T 2M

---

DC 3-wire (PNP)

E2EH-X7B1 2M

E2EH-X7B2 2M

DC 3-wire (NPN)

E2EH-X7C1 2M

E2EH-X7C2 2M

M30

12 mm

DC 2-wire (polarity)

E2EH-X12D1 2M

E2EH-X12D2 2M

DC 2-wire (no polarity) *

E2EH-X12D1-T 2M

---

DC 3-wire (PNP)

E2EH-X12B1 2M

E2EH-X12B2 2M

DC 3-wire (NPN)

E2EH-X12C1 2M

E2EH-X12C2 2M
Connector Models (M12)
Appearance

Sensing distance

Output configuration

Operation mode: NO

Operation mode: NC

M12

3 mm

DC 2-wire (polarity)

E2EH-X3D1-M1G

E2EH-X3D2-M1G

DC 3-wire (PNP)

E2EH-X3B1-M1

E2EH-X3B2-M1

DC 3-wire (NPN)

E2EH-X3C1-M1

E2EH-X3C2-M1

M18

7 mm

DC 2-wire (polarity)

E2EH-X7D1-M1G

E2EH-X7D2-M1G

DC 3-wire (PNP)

E2EH-X7B1-M1

E2EH-X7B2-M1

DC 3-wire (NPN)

E2EH-X7C1-M1

E2EH-X7C2-M1

M30

12 mm

DC 2-wire (polarity)

E2EH-X12D1-M1G

E2EH-X12D2-M1G

DC 3-wire (PNP)

E2EH-X12B1-M1

E2EH-X12B2-M1

DC 3-wire (NPN)

E2EH-X12C1-M1

E2EH-X12C2-M1
* When using a no-polarity model, there is no need to be concerned about whether to connect to the positive or negative
side of the power supply. The load can be connected to either the +V side or 0 V side.
Accessories (Order Separately)
Sensor I/O Connectors (M12, Sockets on One Cable End)
(Models for Connectors: A Connector is not provided with the Sensor. Be sure to order a Connector separately.)
Appearance

Cable length

Sensor I/O Connector model

Applicable Proximity Sensors

Straight

2 m

XS2F-E421-D80-E

E2EH-X[]D[]-M1G
E2EH-X[]B[]-M1
E2EH-X[]C[]-M1

5 m

XS2F-E421-G80-E

L-shape

2 m

XS2F-E422-D80-E

5 m

XS2F-E422-G80-E
Note: The above Connectors conform to DIN40050-9 standard, provide IP69K protection, have a maximum operating
temperature of 105°C, and use SUS316L stainless steel.