EtherNet/IP-DeviceNet Router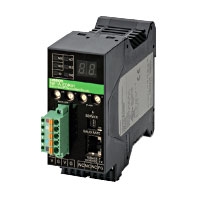 Allows a safety system to be monitored from Ethernet.
DeviceNet

communications power supply voltage

11 to 25 VDC (supplied via

DeviceNet

communications connector)

Internal circuit power supply voltage

20.4 to 26.4 VDC (24 VDC - 15%/+10%)

DeviceNet

communications


power supply

Internal circuit power supply

10 to 57 Hz: 0.35 mm, 57 to 150 Hz: 50 m/s

2

35-mm DIN Track (IEC 60715 TH35-7.5/TH35-15)

Ambient operating temperature

Ambient operating humidity

10 to 95% (with no condensation)

Ambient storage temperature
DeviceNet
Communications Specifications
Multi-drop system and T-branch system can be combined (for trunk line and branch lines)

Special cable, 5 conductors (2 for communications, 2 for power supply, 1 for shielding)

Note: Figures in parentheses ( ) indicate values when a thin cable is used.

Communications power supply
Ethernet/IP Communications Specifications
10 Mbps (10BASE-T)


100 Mbps (100BASE-TX)

Shielded twisted pair cable (STP): Category 5, 5e

100 m (distance between hub and node)

No. of cascade-connectable Units

No limit when a switching hub is used.