Safety Key Selector Switch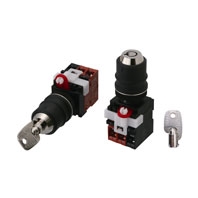 Key-type Selector Switch with Direct Opening Mechanism
Approved Standard Ratings
UL,

cUL

(File No. E41515): 6 A at 220 VAC, 10 A at 110 VAC

TÜV (EN60947-5-1) (Low Voltage Directive): 3 A at 220 VAC

CCC (GB/T 14048.5): 3 A at 240 VAC, 1.5 A at 24 VDC
EN60947-5-1


(certified direct opening mechanism)

Consult your OMRON representative for details.
Note: Only models with NC contacts have a direct opening mechanism.

*1. UL-certification for CSA C22.2 No. 14 has been obtained. (Certification has been obtained for the Switch Unit only)
Note: 1. Rated current values are determined according to the testing conditions. The
above ratings were obtained by
conducting tests under the following conditions.

(1) Ambient temperature: 20±2C°

(2) Ambient humidity: 65±5% RH

(3
)Operating
frequency: 20 operations/minute

2. Minimum applicable load: 10
mA
at 5 VDC
Allowable operating




frequency

30 operations/minute max.

30 operations/minute max.

Between terminals of same polarity

2,500 VAC, 50/60 Hz for 1 min.

Between each terminal and ground

2,500 VAC, 50/60 Hz for 1 min.

10 to 55 Hz, 1.5-mm double amplitude (within 1 ms)

Ambient operating temperature *2

Ambient operating humidity

Ambient storage temperature

Electric shock protection class

PTI (tracking characteristic)
*1.
Malfunction within 1
ms.

*2.
With no icing or condensation.

*3.
The degree of protection from the front of the panel.

Note: 1.
Do
not allow the load current to exceed the rated value.

2. The contact ON/OFF timing is not synchronized. Confirm performance before application.

3. Once the contacts have been used to switch a load, however, they cannot be use
d to switch smaller loads. The
contact surfaces will become rough once they have been used and contact reliabili
ty for smaller loads may be reduced.